If you've never seen a Weeping Pussy Willow tree, you're in for a treat. These are very unique plants, and they are easy to grow from scratch. Rooting weeping pussy willow cuttings is pretty easy, and the rooted cuttings can be trained into interesting weeping trees.
Weeping Pussy Willow looks just like a regular Pussy Willow shrub, except the branches grow inverted. If you can find one of these interesting plants at a garden center, they are usually rather pricey. $50.00 to $100.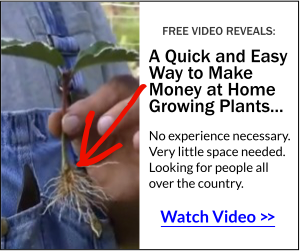 Typically the weeping variety is grafted or budded onto an upright Willow stem, but what I do is take a cutting from the weeping pussy willow, root the cutting, then train my new plant to grow as a single stem tree, then once it's about 5 or 6 feet high I train it to develop a weeping head.
Take a look at these photos:
Weeping Pussy Willow is actually a fast growing plant. As you can see in this photo I planted the rooted cutting in my garden, then start training it to grow as a single stem plant by tying it to a stake.
In this photo you can see how I train these plants, intentionally putting a few crooks in the main stem to give them additional character. As if they are not already interesting enough.
When you grow Weeping Pussy Willow from cuttings it's more difficult to get them to stand upright on their own, but there are many interesting ways to stake them or anchor them to a wall that makes them even more fun. Some people even plant two or three together and braid them which makes the stem more rigid.
Cuttings can be easily rooted if you take them during the summer months and simply put them in a Homemade Plant Propagation System like the one on this page.
A little closer look at one of my Weeping Pussy Willow creations:
These plants are really fun to grow! If you have a friend that has a Weeping Pussy Willow maybe you can take a few cuttings. If not, you'll have to check around with your local garden centers to see if you can find one you can buy.
I normally root Weeping Pussy Willow as softwood cuttings, but since I had to go out and trim my plants so I could take the photos you see here, I decided to see if I could root them as hardwood cuttings. You can see those photos on this page: Hardwood cuttings of deciduous plants.