We get a lot of emails from our readers.  One question often asked is: Which brand of pruning shears does Mikes use?  This question is an easy one for me to answer.
If you were to swing by the nursery right now, you'd find Mike there in his bib overalls.  The way he looks in his videos is 100% true to life.  His bib overalls and Timberland boots have become his uniform. He carries a small pocket knife in his right pocket and a pair of pruning shears in his bib pocket.  Always has.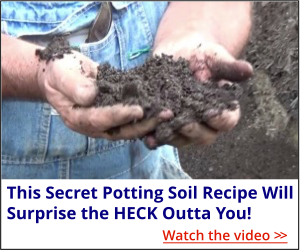 Okay, lets talk pruners.  There are two basic types of pruners available:  Anvil and Bypass.
Anvil pruners have one blade that does all the cutting and then comes to a rest against a stopping plate  (kind of like a knife on a cutting board).  Anvil pruners have the tendency to smash as they cut.  They will crush stems so are best used on things like dead branches.
Bypass pruners have two blades that work using scissor action.  They tend to make cleaner cuts and stay sharper longer.  A bypass pruner is what we recommend.
Bypass is the way to go.
High end pruners like Felco and ARS can run you anywhere from $50- $250 depending on the style.  Are they really any better than the $10 pair you can get from a box store?  In a word: yes.  Propagators who work with pruners all day long will be willing to invest more than someone who occasionally dabbles in the garden.   There are a lot of tiny bones in your hand.  The repetitive squeezing motion can become quite painful when you are spending hours making softwood cuttings with cheap pruners.   People who propagate plants for a living want pruners that are ergonomically designed to fit their hand size- one that is not heavy or hard to close.   They consider the spring, the lock, and the availability of replacement parts.
Even if you are not someone who spends all day pruning or someone who doesn't necessarily need perfect, precise cuts its worth paying a little bit more for a pair of shears that are durable.  There are some very good pruning shears in the mid-price range.  The pair that Mike swears by is the Corona 3160BP.  (BP stands for bypass pruner.)
A pair of Corona 3160 bypass pruners should run you about $20- $30 dollars.   These general purpose pruning shears will easily cut up to 3/4 inch in diameter.  They aren't designed to cut thick branches, but they'll slice through leaves and stems like butter.  They make nice, clean cuts and are perfect for everyday use around our nursery.
The blades are made from a heat treated steel alloy.  This is important for two reasons.  Number one: it strengthens the blade.  Number two: heat treating allows it be resharpened as needed.
The slanted head allows for ergonomic cutting by eliminating the need to constantly hold your wrist at an angle.  The no-slip rubber handle is red.  Its fairly easy to spot when you drop it in the bushes.  There are newer models with a comfort grip, but we find the original to be pretty comfortable.
Replacement blades and handle bolts are easily found on the website along with a lifetime guarantee (misuse and normal wear and tear excluded).
Mike does not get a kickback from Corona for advertising his pruners.  They are simply what he uses and what he recommends as the best pruning shears.  If you search online, you'll find that other gardeners have posted some nice reviews about them.  They seem to be well liked by others.  Please note that there are some cheap knock-offs that look very, very similar.  You'll want to look for the brand name "Corona" above the handles when buying.