If you been using my plant propagation system to root cuttings of your favorite plants this summer, it's time to start thinking about getting those small plants ready for winter.
If you haven't yet built yourself plant propagation system, do so now because you can also use it to root hardwood cuttings over the winter.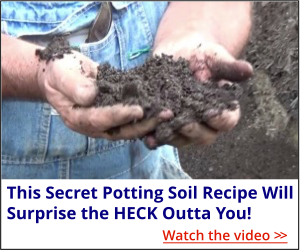 Getting those little tiny rooted cuttings through the winter is easier than you think. All you have to do is plant them a row in your garden. Select a protected area, then keep an eye on them over the winter.
Sometimes the action of freezing and thawing ground can force small plants out of the ground over the winter. So check yours each time the ground thaws and if necessary just tamp them back in.
Come early spring transplant them to pots or to their permanent home in your garden.
If you still have cuttings that are in the process of rooting, or not yet rooted, just bury the entire flat so the top of the flat is flush with the ground. By spring those cuttings are likely to be rooted.
That's it! Those small plants are tougher than you think.